Nick Groff
(born on April 19, 1980, in San Jose, California) is a co-investigator and cameraman on the series. He is also an executive producer and editor of the show. Groff is also the co-founder of the
GAC
. He and his wife currently reside in Las Vegas, Nevada.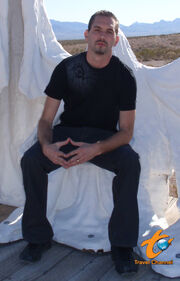 Groff's fascination and curiosity of the paranormal began since childhood, during which he had experienced phenomena that he could not explain. After Groff met and befriended Bagans during Groff's wedding in Las Vegas, the two partnered with mutual interests to investigate the paranormal.
One of Groff's most life-changing experiences was being apparently possessed by an entity at the Moon River Brewing Company in Savannah, Georgia. Another such experience, which startled him, was an alleged face-to-face encounter with a female spirit at the Linda Vista Hospital in Los Angeles, California.